Here are the list of my favorite beauty queens of 2011. All from the Big 4 pageants namely: Miss Universe, Miss World, Miss International and Miss Earth. I created the list because I have the urge feeling to express what I think about these women. Enjoy!
1. Ukraine Universe - Olesya Stefanko
On the top of the list is a classic beauty from Ukraine. She is number one because her beauty is timeless. Her stares are so seductive and hypnotic. In Miss Universe evening gown competition, she looks like a floating goddess and I see her as Aphrodite, the Greek Goddess of Beauty.
2. Angola Universe - Leila Lopes
Miss Angola is beautiful in different angles. Dubbed as the Black Barbie, she is very gorgeous in her evening gown. Her body is proportioned, complimented by a silky dark complexion. Her beauty is natural and her smile is genuine. She is the most beautiful African woman I've ever seen.
3. Venezuela World - Ivian Sarcos
Known as the Bronze Barbie. She captured me with her charming personality in her elaborate fairytale-inspired evening gown. She deserved that happy ending with her cinderella-like story.
4. Puerto Rico World - Amanda Vilanova
Beauty and confidence, she owns them. She is cute and sexy. Her looks remind me of Ximena Navarrete.
5. Ecuador International - Ma. Fernanda Cornejo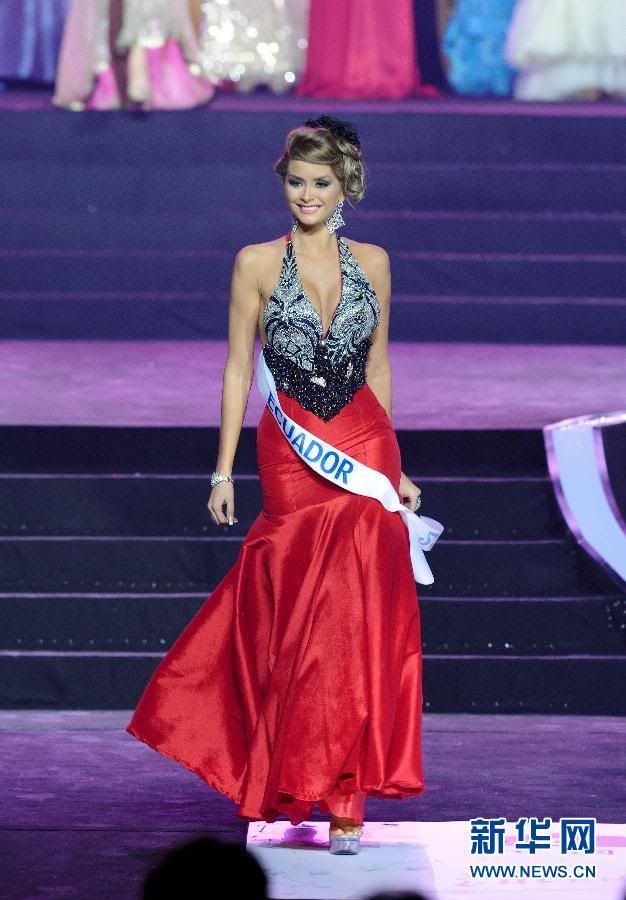 The Ecuadorian beauty is a blonde bombshell. She looks like a barbie. Her beauty is sexy and feminine at the same time.
6. Paraguay Earth - Nicole Huber
This woman never had a chance to walk in her evening gown. I guess it was not wise enough to exclude her in the Top 8. She nailed the Miss Earth swimsuit competition with her seductive Latina beauty.
7. Venezuela Earth - Caroline Medina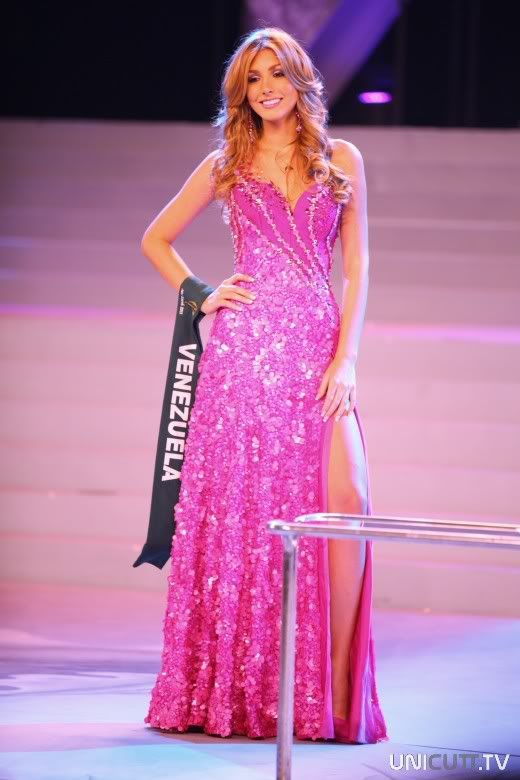 I call her "the unlucky one." She losed the chances of winning because of her interpreter who messed up her answer. I was eyeing her to win Miss Earth. She looks great in that pink evening gown. At least, she finished Miss Earth-Fire or 3rd runner-up.
8. Panama Universe - Sheldry Saez
She is gorgeous. Her lips are perfect and luscious. I was expecting her in the Top 5 and I think her messy hair robbed the chances.
9. Costa Rica Universe - Johanna Solano
Miss Costa Rica is sexy, lovely and beautiful. If she had worn an appropriate evening gown, she might find herself in the Top 5.
10. Ecuador Earth - Olga Alava
The woman whose smiles are captivating won Miss Earth. No wonder, this woman has a charming personality. Although she lacks curves, she rocked the swimsuit competition with a smile.
11. Malaysia Universe - Deborah Henry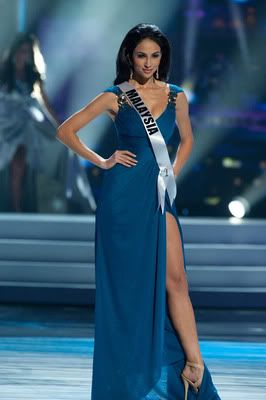 Her exclusion being a finalist was upsetting. Pageant fans, critics and bloggers were expecting her in the Top 16. She is beautiful and intelligent as shown in the web interviews.
12. Philippines Universe - Shamcey Supsup
My country's representative finished 4th place or third runner-up. She nailed the final questions. Her beauty is mestiza.
13. Australia Universe - Scherri-Lee Biggs
Her humble and cute personality made me to like her. She looks like Miley Cyrus.
14. USA Universe - Alyssa Campanella
The thinnest woman of the 2011 pageant world, Alyssa is my favorite. She is a stunning redhead. She's too thin compared to those women in Miss Universe. She looks a little bit like Taylor Swift.
15. Brazil Earth - Drielly Bennettone
She is stunning and gorgeous. Her evening gown compliments her classy personality.